Coachmen Beyond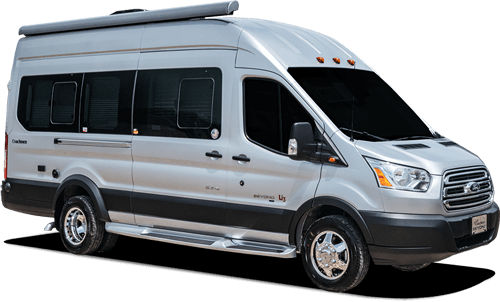 Motor Home SpecialistThe #1 Volume Selling Motor Home Dealer in the World!
*
Coachmen Beyond
The all new and versatile Coachmen Beyond Motorhome by Coachmen RV has been designed using the preferences of its end users along with the results they desire. The Class-B RV boasts configurations similar to that of the legendary Ford, and provides comfort and style within the same roof. Comfort and luxury are not features you see going together in conventional RVs, but the Beyond Motorhome exceeds all expectations to deliver an excellent product.
The large, spacious captain seats ensure that you can lie back and enjoy the views outside, as you go forward on your journey. The interior has been crafted by Coachmen RV in a way that matches the exuberance and elegance you would want, while giving you the perfect blend of adventure within the comforts of a home-like environment. The Beyond RV gets you to the core of the action, in elegance and style!
Uncovering the Elegance of the Coachmen Beyond
The style statement of Coachmen's Beyond lies in its packed floor plan and luxurious interior. The floor plan consists of several amenities that complement the bespoke interior, to make this Class B RV a great choice for everyone. RV'ing has often been perceived as means to travel compromising on the luxury aspect of a vehicle, but with the Coachmen Beyond, you can add to the elegance during your journey without having to lose on the performance or comfort. From setting out on a cross-country adventure to heading out on a quick weekend getaway, every RV adventure in the Coachmen Beyond RV promises to be a glorious ride full of excitement and enthusiasm.
Enjoy the Features
Besides the modern innovations and styling we have already mentioned above, Coachmen RV Dealers have ensured that the Coachmen Beyond RV comes with a list of flawless features that are necessary for adding value to a traveling excursion. Based on the Ford Transit 350 HD, the Coachmen Beyond boasts a 3.7L Ti-VCT V6 Gas Engine under the hood, which is bound to make traveling easier for you. The super spring suspension kit gives you the freedom to travel through rugged terrain without having to worry about undue bumps, while the rear screen and rear window covers complement the side screen door-well, to keep you in charge of the environment inside.
Enjoy a Luxurious Ride
More than just enjoying the end location on a getaway, your journey on the road plays an important role in adding value to your vacations. A Coachmen Beyond motorhome is the perfect vehicle to set out on a vacation in because you get to experience a touch of elegance in almost everything you see or feel. The interior details are handpicked to perfection, and are fine tuned to make your experience inside the Class B RV a memorable one.