Coachmen Prism Sprinter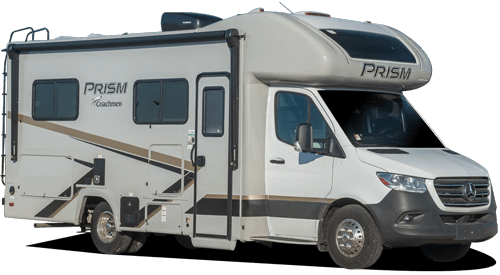 Motor Home SpecialistThe #1 Volume Selling Motor Home Dealer in the World!
*
Coachmen Prism Sprinter Diesel B Plus RVs for Sale at Motor Home Specialist, the #1 Volume Selling Motor Home Dealer in the World as well as #1 motorized Coachmen RV dealer in the World.
Sometimes, when you take off to parts unknown, the length of the journey is up in the air. That is part of the fun of hitting the road and letting what comes next unfold in front of you. So, whether you plan to hit the open road for a couple of days or for the long haul, the Coachman Prism Sprinter Diesel is the motor coach for you. Explore the Countryside in the Coachman Prism diesel and the Coachmen Prism LE. There is nothing quite like hitting the road with no final destination in mind. If you like to let the road take you where it will, the Coachman Prism Sprinter Diesel RV is the perfect motor coach for you. It is easy to drive and provides plenty of room to keep you comfortable. The Prism is available in a class B plus RV model as well as a Class C model in the Coachmen Prism LE. 
Even if you do know where you plan to end up, you can take pleasure in how easily this coach moves down the road with its aerodynamic full fiberglass cap and tinted windows in select models. Not to mention the pleasure of sitting back on sofa throw pillows and upgraded cushions when it is time to relax after a long day's driving. Take Pleasure in the Comfort of the Coachman Prism. While driving in and of itself can be pleasurable, the time does come when you need to stop for the night. When you do, you can take pleasure in the available features of the Coachman Prism. The coach may be pre-wired for a satellite dish and sports both 12 volt 24" Coach TV/DVD speakers and an exterior entertainment center with 24" TV, stereo, DVD, and speakers is also available in select models.
Additional features may include: Magazine rack above entry door, LED interior lights, diesel generator, full body paint, aluminum wheels and exterior entertainment center. Make Your Next Great Trip a Coachman Prism Trip. When it is time to take your next great trip - or even your very first one - there is no better motor coach to take it in than the Coachman Prism. Find out for yourself and learn more today at MHSRV.com - The Savings Destination of the RV World! Also, be sure to check out the all new Coachmen Galleria. The Coachmen Galleria is a Mercedes Diesel Class B RV and are now available at incredible savings at Motor Home Specialist.
Click here to view Coachmen Prism Sprinter Diesel RV Reviews.  
Coachmen RV, Manufacturers options, features, colors, etc. can all change without notice and MHSRV assumes no responsibility for the changes or possible errors in information provided by the manufacturer or MHSRV. All weights and measurements are approximate and not guaranteed to be 100% accurate. For the latest information be sure to check with your salesman and or the coach manufacturer and verify before purchase.