Dynamax Force HD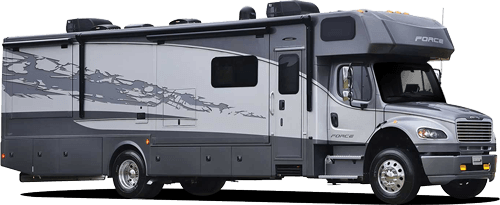 Motor Home SpecialistThe #1 Volume Selling Motor Home Dealer in the World!
*
Dynamax Force HD RVs for Sale at Motor Home Specialist, the #1 Volume Selling Motor Home Dealer in the World as well as a full-line Dynamax RV Dealer.
The Force HD takes what you know and love about the Force motorhome and kicks it up a notch with a 350 Horsepower engine, enhanced body paint and various other upgraded features that will enhance your road traveling experience.
The Force HD is filled with Features
From the moment you climb aboard the Force HD motorhome, you will be overwhelmed at the stunning design, high end quality and attention to detail that is paid to every aspect of this motor coach. It features cab seats on swivel pedestals, ceramic tile, burl wood dash and keyless entry door touchpad lock. The Force HD is made to give the owner that comfortable home feeling, and the full bathroom does just that with a sink, toilet and shower. Add in the king size bed and you will think you are actually living in a full scale luxury home and not a motor coach.
The Force HD's Exterior is a Thing of Beauty
The Force HD is a sight to see with its custom full body paint and diamond shield. It also includes a patio awing with LED lighting, so you can enjoy the great outdoors while still maintaining that luxury feel that flows throughout this motorhome.
Traverse the Open Road in the Force HD
The Force HD isn't the only luxury motorhome available from Dynamax RV (a Forest River Inc. company, which is a division of the Berkshire Hathaway Company). In fact, they have several other models, including new RVs:
DX3
Dynaquest XL
Isata 3
Isata 5
Rev
Dynamax Force
You may also find a good selection of Used RVs including used Super C RVs from the Dynamax brand. Shop MHSRV.com 24/7 at MHSRV.com or call 800-335-6054 today.
Click here to view Dynamax RV Reviews
Manufacturers options, features, colors, etc. can all change without notice and MHSRV assumes no responsibility for the changes or possible errors in information provided by the manufacturer. All weights and measurements are approximate and not guaranteed to be 100% accurate. For the latest information be sure to check with your salesman and or the coach manufacturer and verify before purchase.