Forest River Berkshire XL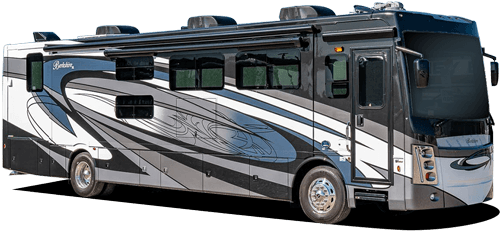 Motor Home SpecialistThe #1 Volume Selling Motor Home Dealer in the World!
*
If you are looking for a motor coach that you can be proud to drive down the road and call your home away from home, then you need look no further than the Forest River Berkshire XL. From all the included amenities to the little extras, no detail has been overlooked.
Enjoy the Ride in Comfort in the Forest River Berkshire XL
When you are on the road and away from home, it is normal to wish for the comforts you have left behind, but with the Forest River Berkshire XL, those comforts come with you no matter where the road and your fancy takes you.
From the soft and stylish 'Soft Touch' love seat in the living area to the passenger seat with 360 degree swivel and recliner and the king size bed with bedspread and decorative pillows, you will find comfort in every inch of the Forest River Berkshire XL motor coach.
Take Control of the Highway in the Forest River Berkshire XL
There is nothing worse than feeling a bumpy and pot hole filled road beneath you. That is why the Forest River Berkshire XL comes with the Neway air suspension in both the front and rear of the motor coach as well as a heavy duty stabilizer bar to keep your ride smooth as you glide down the highway.
You will feel the difference the first time you get behind the wheel.
Additional features include: LED color TV, Dream booth dinette with storage underneath, Fantastic fan in the galley area
Glide Down the Road in the Forest River Berkshire XL
There is only one way to know if the Forest River Berkshire XL is the motor coach for you, and that is to get behind the wheel and test one out, and there is no better time to do so than now.
Manufacturers options, features, colors, etc. can all change without notice and MHSRV assumes no responsibility for the changes or possible errors in information provided by the manufacturer. All weights and measurements are approximate and not guaranteed to be 100% accurate. For the latest information be sure to check with your salesman and or the coach manufacturer and verify before purchase.