Forest River Georgetown XL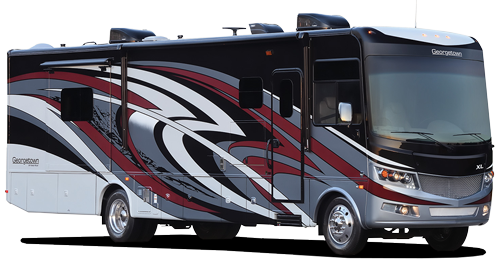 Motor Home SpecialistThe #1 Volume Selling Motor Home Dealer in the World!
*
If you are the kind of person that like lots of choices in life to select from, then you are going to love the Forest River Georgetown XL. With six floor plans and lots of options, you will find the perfect motor coach to meet your and your family's needs.
Find Out Why the Forest River Georgetown XL is Flat Out Perfect
Just because you are on the road doesn't mean you don't want to enjoy a few perks from home, and the Forest River Georgetown XL lets you do just that. From the flat screen TV to plenty of seating in the living areas, you can enjoy your favorite show, or simply engage in some good, old-fashioned conversation.
You'll also find the free standing dinette is a great place for a meal or maybe a game of cards. The drop-leaf design allows for extra floor space or room to set an extra place for dinner.
Be Social - or not - in the Forest River Georgetown XL
The design of the Forest River Georgetown XL allows you to choose between wide open spaces and complete privacy. In fact, the sleeping area was professionally designed to provide you with comfort and all the privacy you need to get a good night's sleep.
The bedroom also comes with plenty of storage and a 32" LCD/HD TV, so you will have everything you need.
Additional features include: Porcelain tile, Euro recliner IPO Barrel chair, Outside shower
Determine Your Own Destination with the Forest River Georgetown XL
This great motor coach provides you with everything you need for your trip except the destination. Once you determine that, you can be on your way, so take a moment, right now, to check the Forest River Georgetown XL. You will be glad you did.
Manufacturers options, features, colors, etc. can all change without notice and MHSRV assumes no responsibility for the changes or possible errors in information provided by the manufacturer. All weights and measurements are approximate and not guaranteed to be 100% accurate. For the latest information be sure to check with your salesman and or the coach manufacturer and verify before purchase.