Forest River Legacy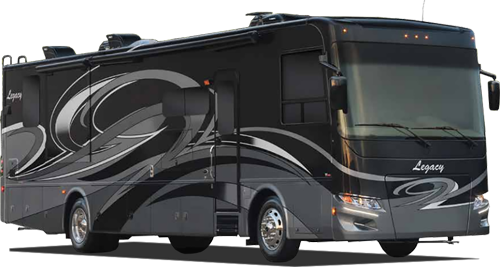 Motor Home SpecialistThe #1 Volume Selling Motor Home Dealer in the World!
*
If you are a modern kind of guy or gal, then the modern design of the Forest River Legacy is for you. Clean lines and an open floor plan will give you the look and feel that you want in a motor coach, and all the extras will ensure you feel right at home even on the road.
Drive in Comfort in the Forest River Legacy
There is nothing quite as bad when you are driving then being uncomfortable in your seat or with the controls you need the most just out of reach. That is not something you will need to worry about on the Forest River Legacy. This motor coach was designed with the driver in mind.
You'll find both comfort and support in the captain's chair which is also easy to adjust. All of the controls are in easy reach, so you can rest assured that you can do what you need to do and still drive safely. Finally, with the Neway air suspension in both the front and the back, you'll be able to move down the road smoothly.
Go Big or Go Home in the Forest River Legacy
If you are going to do something, you might as well do it right. At least, that is what the folks at Forest River believe, and it is that attitude they brought to the design of the Legacy motor coach. Big storage spaces, big living areas, and big value - you'll find all of them here.
With the side hinge compartment doors with pass-through storage compartments, you'll have plenty of space to bring all the essentials and a bit more. The floor plans offered are designed with giving you as much living space as possible, so you can stretch out and enjoy. You'll never feel cramped here.
Additional features include: 7-pin tow power connector, Full body painted exterior, Power entrance step
Light up the Night in the Forest River Legacy
Day or night, there is no motor coach on the road quite like the Forest River Legacy. Let one light your way on your next trip. Go ahead and find out more now.
Manufacturers options, features, colors, etc. can all change without notice and MHSRV assumes no responsibility for the changes or possible errors in information provided by the manufacturer. All weights and measurements are approximate and not guaranteed to be 100% accurate. For the latest information be sure to check with your salesman and or the coach manufacturer and verify before purchase.