Heartland Elkridge RVs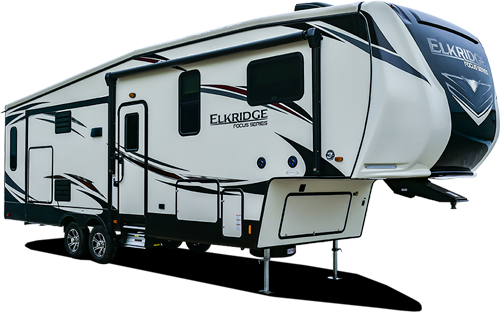 Motor Home SpecialistThe #1 Volume Selling Motor Home Dealer in the World!
*
If you have been thinking about getting a motor coach, but you are just a little intimidated when considering driving a vehicle of this size, then you need to check out the Heartland Elkridge 5th Wheel. While this coach might not turn on a dime, it does have a 88 degree turning radius which makes for easy handling on the road.
Ease on Down the Road in the Heartland Elkridge 5th Wheel
Everything is easy about the Heartland Elkridge 5th Wheel RV. In fact, with the E-Z Flex suspension system by Dexter and the Correct Track alignment system, driving this coach is a snap. Not to mention once you are finished driving for the night, the electric rear stabilizing jacks and front electric landing gear will have you set down and secure with a flip of a switch.
Even getting on and off this coach is easy with the large entry assist grab handle and the light at the entry step. Safety and security are job one on this coach.
Look Good in Your Heartland Elkridge 5th Wheel
While being safe is super important, you still want to look good driving on down the road. With the Heartland Elkridge 5th Wheel, you get the best of both worlds. Besides all of the safety features, there are plenty of options to keep you looking good as well.
From the gel coated molded fiberglass front cap to the Pearl high gloss fiberglass  painted front cap on the outside, and the chestnut interior cabinets on the inside, you will be looking good and feeling good.
Additional features include: TV antenna with signal booster, Oil rubbed bronze hardware, Night shades
Dominate the Road in the Heartland Elkridge 5th Wheel Motor Coach
If you are going to spend your time on the road, then there is no reason to do so in anything than one of the best motor coaches on the road, and that is the Heartland Elkridge 5th Wheel motor coach. Discover what this coach can do for you and check one out today.
Check out these Travel Trailers and 5th Wheels from your Heartland RV Dealer  Motor Home Specialist:
Heartland Road Warrior
Heartland Elkridge XTreme Light
Heartland Terry Classic
Heartland Wilderness
View all Used Heartland RVs for Sale
*Updated 2/5/18 - All weights, measurements, sizes, dimensions, features, options, etc. generated from manufacturer's website at time of update and not specific to any particular year model. This information is deemed reliable, but NOT guaranteed by the manufacturer or Motor Home Specialist due to continual product revisions and occasional OEM changes in the product, as well as any potential for human error when generating or posting these features, specifications or any other details. Please feel free to contact a Motor Home Specialist representative or the RV manufacturer for up to the minute product details before purchase. Thank you for shopping with us at MHSRV.com - We all look forward to hearing from you soon. 800-335-6054.