American Allegiance RVs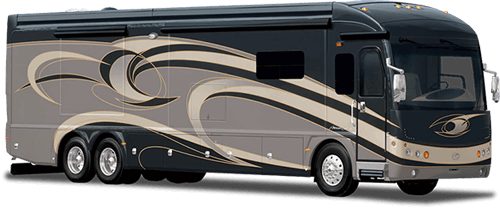 Motor Home SpecialistThe #1 Volume Selling Motor Home Dealer in the World!
*
American Coach Allegiance RVs for Sale at Motor Home Specialist, the #1 Volume Selling Motor Home Dealer in the World as well as a full line American Coach RV dealer.
The Allegiance, by American Coach, is a top of the line motor coach in a class by itself. It looks more like a masterpiece than a vehicle and is designed with an artistry that flows from the inside out. The Allegiance is a dream come true for consumers looking to purchase a motorhome that goes above and beyond expectations.
Look Inside the Allegiance
The interior of the Allegiance features more than just your standard amenities; it is designed to surround passengers with luxury from the minute they board the vehicle. The tankless hot water system provides a continuous supple of water to ensure you won't go without a hot shower. The available LED task and ceiling lightning illuminates the interior of the vehicle in an energy efficient manner, and the premium hardwood cabinet doors, moldings and window treatment gives the Allegiance the high end look you desire. 
Wow them with the Allegiance
The Allegiance is the type of motor coach that will garner a lasting impression even when viewed at a distance, and just like the interior, and exterior of the Allegiance is filled with extras that will wow everyone. These features may include engine preheating, automatic start, exterior sidewall LCD HD television, power luggage door locks, power double entry step and an engine air intake that is mounted on the roof.
Get Traveling Today in the Allegiance
While the Allegiance is a top of its class motorhome, it may not call to you. If this is the case, check out some other available models (such as Fleetwood coaches) including:
Don't wait, give us a call to take a tour of the Allegiance motor coach today at the full line American Coach Texas RV dealers and #1 volume selling motor home dealership in the world.
Click here to view American Coach Allegiance RV Reviews.  
Manufacturers options, features, colors, etc. can all change without notice and MHSRV assumes no responsibility for the changes or possible errors in information provided by the manufacturer. All weights and measurements are approximate and not guaranteed to be 100% accurate. For the latest information be sure to check with your salesman and or the coach manufacturer and verify before purchase.