Dynamax REV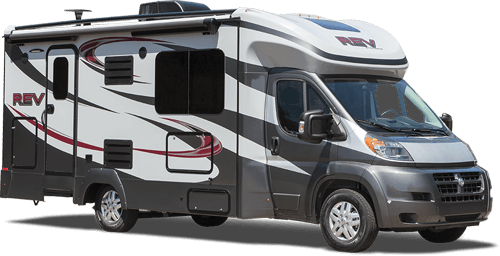 Motor Home SpecialistThe #1 Volume Selling Motor Home Dealer in the World!
*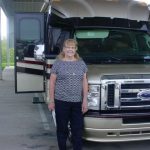 MCDONALD
Very impressive business!
Read Dynamax REV Reviews 
Dynamax REV RVs for Sale at Motor Home Specialist, the #1 Volume Selling Motor Home Dealer in the World as well as a full-line Dynamax RV Dealer.
Sometimes, it is okay to follow the pack. That is when the pack is a whole lot of loyal owners of a motor coach. Nothing says you have picked the right coach than a pack of people wanting to hop on board. The Dynamax Rev is just one such motor coach. It is part of a new generation of coaches from Dynamax that inspires customer loyalty.
Take Advantage of the Smaller Sized Dynamax Rev Class B+ RV.
If a larger coach is more than you and your family need when it is time to take to the road, then the Dynamax Rev C Class motor coach is just your size. While it is easier to drive and park, don't let the smaller size fool you. You will find all of the available amenities of a larger coach from a big LED TV with full-function remote to available solid wood cabinet doors, and a fiberglass exterior with deluxe graphics.
This coach can give the big boys a run for their money, and still make it down the highway in style and comfort with a privacy shade and a lift-up bed with under bed storage in select models.
Rule the Road in the Cockpit of the Dynamax Rev Motor Coach 
One of the most important areas of a coach is the cockpit as you will be spending a good deal of your time there. That is why in the Dynamax Rev motor coach so much time and effort has been put into making the cockpit both comfortable and functional. With reclining available Captain's chairs and drink holders you can sit back and enjoy the ride.
Not to mention the side mount power mirrors with heat and rear view mirror with backup color monitor system with audio in select models will keep you safe while driving and parking. 
Additional features may include: Night roller shades throughout, Cruise control, Queen mattress with electric lift
Make the Road Yours in the Dynamax Rev Motor Coach
There is no reason not to rule the road when you get behind the wheel of the Dynamax Rev motor coach. Find out for yourself and check one out today. 
The REV motor home is just one of the many Dynamax Corp RVs available at Motor Home Specialist. The line-up of New RVs for Sale also includes the following:
DX3
Dynaquest XL
Isata 3
Isata 5
Dynamax Force HD
Dynamax Force
Also, look for used RVs at MHSRV.com or call 800-335-6054.
Manufacturers options, features, colors, etc. can all change without notice and MHSRV assumes no responsibility for the changes or possible errors in information provided by the manufacturer. All weights and measurements are approximate and not guaranteed to be 100% accurate. For the latest information be sure to check with your salesman and or the coach manufacturer and verify before purchase.