Entegra Odyssey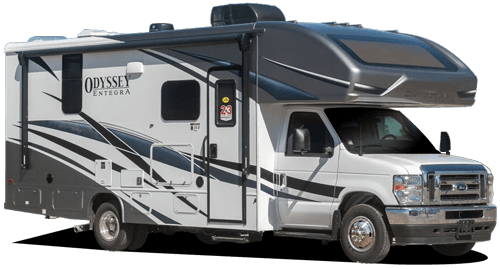 Motor Home SpecialistThe #1 Volume Selling Motor Home Dealer in the World!
*
Entegra Odyssey
Traveling in a recreational vehicle can't get any better than inside the Entegra Odyssey, a Class C RV that addresses the demands and concerns of people who regularly enjoy RVing. Beyond doubt, the brilliance and luxury of the Entegra Odyssey Class C motorhome is unparalleled.
Entegra Coach dealers have come up with such a design of RV that doesn't fail to offer the ultimate superior comfort and convenience that RVs are expected to provide. No matter how tough and strenuous your journey is, and no matter how long it is, the Entegra Odyssey is built to surpass your expectations.
The Features of the Entegra Odyssey
Entegra Coach has achieved a terrific balance of classic value, experience and dependability in this Class C motorhome that is built over the highly sought after Ford E450 chassis. One can't ignore to praise the comfortable and spacious passenger and driver seats that enhance the delight of traveling across country.
Entegra Coach has made sure that the safety measures of the passengers don't go unattended. This is why the Entegra Odyssey RV has bead foam insulation, vacuum bonded and laminated flooring, walls and roofing. Also, the entertainment and comfort value of the RV does not lag behind.
This Class C RV comes fully loaded with pleated shades, 32 inch LED TV with cable TV hookup and RG-6 coax, and high intensity and recessed LED ceiling lights. Also, the exterior of the RV is supported by stunning features like LED taillights, electric powered entrance steps, aluminum running boards, outside shower and 12V electrical system with 120V and 60amp power converter.
Value Its Striking Options
The Entegra Odyssey is an exemplary model of persistent perseverance. Entegra Coach has made sure that the end users get a range of amazing options that can be added to the RV if they choose to do so. These options include a refrigerator, 1,000 Watt inverter, back-up camera and monitor, infotainment system, tank heating pads, electric awning with LED lights, automatic hydraulic leveling jacks, and front fiberglass cap.
Suitable for Travelling Long Distances
The Entegra Odyssey Coach is by all means a luxury brand of RV that offers a consistent ease of driving and everything that is of spectacularly high-end quality. From its remote controlled side view mirrors, digital antenna with signal booster to its white fiberglass exterior with vinyl graphics, and fiberglass radius cornered entrance door with a screen door, the RV offers an unforgettable traveling experience.