Entegra Qwest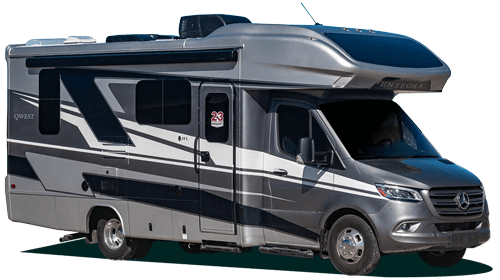 Motor Home SpecialistThe #1 Volume Selling Motor Home Dealer in the World!
*
Entegra Qwest
One of the newly introduced RVs in the lineup of motorhomes by Entegra Coach is the Entegra Qwest. The Qwest is not only fuel efficient and agile to drive, but also its quality and durability are worth all the accolades it has received from the frequent RV travelers. This Class C RV is backed by a 2-year manufacturer warranty and promises to deliver one adventure after another. The Entegra Qwest consists of all the modern comforts and styles which are a prerequisite for making memorable long journeys.
Entegra Coach dealers have attended to the design and the interior of the Entegra Qwest keeping in mind the level of comfort, convenience and luxury that the end users expect from the latest RV models. The Entegra Qwest is ready to serve all purposes with style.
Entegra Qwest's Essential Features
With the Entegra Qwest, Entegra Coach dealers have introduced their newest offering that brings to you an astounding combination of high customer value, experience and remarkable dependability. This Class C motorhome comes with the reputation of being built on Mercedes 3500 chassis. Its spacious driver and passenger seats not only provide you with comfortable legroom, but also elevate the pleasure of traveling in an RV to another level. The large windows of the Entegra Qwest serve as flat screens that give you an opportunity to value and enjoy the breathtaking landscapes you pass through. Also, Entegra Coach dealers have prioritized the safety and well-being of its passengers. The Entegra Qwest comes with terrific installations and fixtures like aluminum rims throughout the interior of the RV, electric power single entrance step, and one piece fiber glass roof for extra and lasting durability.
The Lavish Interiors
Entegra Qwest is definitely a grand icon of persistent devotion that provides an unmatched RV experience to the people who are fond of making and cherishing memories by taking long tours across the scenic countryside. The Class C RV dealers offer two different floor plans that are loaded with perfect quality amenities. Thus, the Qwest meets all the standards of being a premium touring coach that has excellent interior features like soft touch vinyl ceiling, Ultraleather furniture throughout the RV, a JBL premium sound system, high intensity LED lights, porcelain toilet, and day/night roller shades.
Enjoying the Distances
The Entegra Qwest RV is a luxury vehicle that makes traveling long distances comfortable. With amenities like a one-piece seamless front cap with an automotive bonded window, Entegra Qwest stuns even the most discerning buyers in the market. The modern buyers will simply fall in love with its kitchen that comes equipped with a stainless steel sink, convection microwave, and a refrigerator. Moreover, the exterior of the Entegra Qwest is equally praiseworthy. From its frameless windows to its magnificent full body paint choices with stainless trim, the Qwest is definitely a stylish and durable choice for any new or expert RVer.