Fleetwood Discovery LXE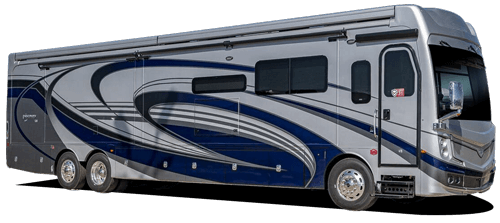 Motor Home SpecialistThe #1 Volume Selling Motor Home Dealer in the World!
*
Fleetwood Discovery LXE
Introducing the Fleetwood Discovery LXE – the latest Fleetwood Class A motorhome. Consider your vacation while traveling in the Fleetwood Discovery LXE a well spent vacation on all levels.
This premier Class A RV is Fleetwood's most accomplished design. Packed with premium features and amenities that top the previous ones included in the older models.
Fleetwood RV dealers have designed the Fleetwood Discovery LXE with an unwavering focus on the evolving demands and preferences of the modern RV travelers.
The Fleetwood Discovery LXE's Essential Features
The Class A RV dealers at Fleetwood RV have succeeded in amalgamating a perfect blend of high-end value, experience, and reliability in this premier Class A motorhome that comes with the prestige of the Freightliner XCS Series chassis. Fleetwood RV dealers have included astounding features that will appeal to the most demanding buyer in the market. It's because the Fleetwood Discovery LXE comes installed with a BOSE soundbar, Blu-Ray player, Firefly Integrations electronic control system, and an interior completely adorned with tile flooring. All these exquisite features take this RV to another level making it one of America's favorite motorhomes. This Class A RV offers 360 horsepower and comes with an option of seven types of floor plans for the buyer to make a selection from. Even the exterior of the RV is stunning. From a roof top mounted awning with LED light strip to the wind sensors react, and every detail in between, the traveling experience is escalated in this RV with these many essential features.
The Luxury of the Fleetwood Discovery LXE
The luxury of the Fleetwood Discovery LXE can best be described by mentioning its state-of-the-art features that include Aqua-hot tankless water heater. The quad slide outs provide ample room inside the RV to enjoy your time traveling on the road with comforts of your home. The evenings can be spent on the L shaped sofa with a 49 inch LED TV that provides high entertainment value. Class A RV dealers at Fleetwood RV have designed luxurious bathrooms with two sinks. Furthermore, a king size bed, a dresser, a full length closet and a 43 inch LED TV in the rear bedroom will truly enhance your experience while traveling in this premier Class A RV.
The Comfort of Traveling Long Distances
Inside the Fleetwood Discovery LXE, you will find furnishings that include hardwood cabinet frames, drawers and doors, and never once will you feel that you're away from home. Moreover, the RV comes equipped with a central vacuum system that allows you to clean the interiors of the RV with utmost convenience.