Fleetwood Expedition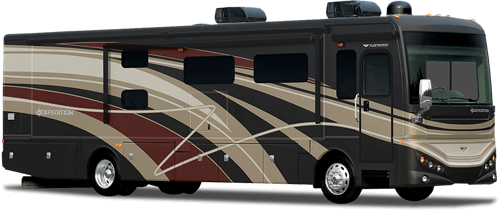 Motor Home SpecialistThe #1 Volume Selling Motor Home Dealer in the World!
*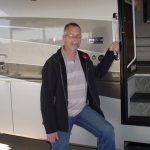 The Hutchinsons
of Canada
Very helpful with Canadian purchase. Bought here because of price and quality.
Read Fleetwood Expedition Reviews 
Fleetwood Expedition RVs for Sale at Motor Home Specialist, the #1 Volume Selling Motor Home Dealer in the World as well as a full line Fleetwood RV dealer.
Motor Home Specialist offers New and Used Fleetwood Expedition RVs for sale. The Fleetwood Expedition RV is a popular Fleetwood RV sold at Motor Home Specialist. It was first made available in 2001 and was still in production in 2016. The Fleetwood Expedition RV has been a very popular used diesel RV at Motor Home Specialist for years. The Expedition RV has taken on many shapes and sizes through the years but has always remained a great diesel RV value.
2001 model used Fleetwood Expedition models are 260 HP and available with two slide-outs only. A used 2002 Fleetwood Expedition is available with two slide-out floor plans only as well, but was also available with a 300 HP.
You will find 2004 model used Fleetwood Expedition RVs to have 300 HP diesel engines standard. The average MSRP of a new 2004 Fleetwood Expedition RV was about $160,000.
Used Fleetwood Expedition RVs from 2003 through 2007 all featured a 300 HP diesel standard and can be found with up to four slides and even some full wall slides.
By 2008 the Fleetwood Expedition RV was moved up in price and amenities to include 7 models. A 2008 used Fleetwood Expedition will feature a 325 HP diesel and have a wide variety of unique floor plans including the 38V. An average suggested retail price for a new Fleetwood Expedition in 2008 could be more than $200,000. You can find used Fleetwood Expedition RVs at Motor Home Specialist for far less.
Used Fleetwood Expedition RVs remain a popular used RV available at Motor Home Specialist.
Motor Home Specialist is proud to have sold hundreds of used Fleetwood RVs through the years. We have found Fleetwood RVs, including the Fleetwood Expedition to be a popular choice for RVers shopping the Fleetwood line-up of diesel pusher RVs. To view our current used Fleetwood RVs please click the yellow RVs for Sale button located near the top left corner of the page or feel free to call one of our sales representatives today.
Our website is updated daily, but you never know what used Fleetwood motor home may have just come in or may be arriving soon.
Find used Fleetwood Expedition motor homes for sale at incredible savings at Motor Home Specialist: The #1 Volume Selling Texas RV Dealer as well as #1 volume selling motorhome dealer in the world.  800-335-6054 or www.mhsrv.com
See also: Fleetwood Bounder RV, Fleetwood Discovery RV, Fleetwood Pace Arrow LXE, Fleetwood Pace Arrow, Fleetwood Southwind RV, Fleetwood Jamboree RV, Fleetwood Providence RV, Fleetwood Tioga RV, Fleetwood Excursion RV, and the Fleetwood Revolution RV. You may also want to check out American Coach line-up now available at Motor Home Specialist.
Click here to view Fleetwood Expedition RV Reviews. 
Manufacturers options, features, colors, etc. can all change without notice and MHSRV assumes no responsibility for the changes or possible errors in information provided by the manufacturer. All weights and measurements are approximate and not guaranteed to be 100% accurate. For the latest information be sure to check with your salesman and or the coach manufacturer and verify before purchase.