Forest River Georgetown RV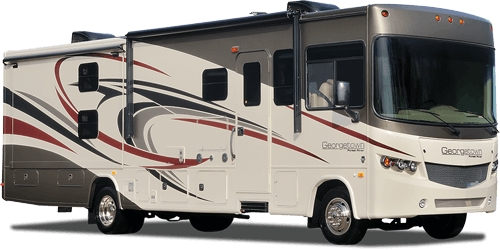 Motor Home SpecialistThe #1 Volume Selling Motor Home Dealer in the World!
*
If it is time to head west, young man - or woman, then there is no better way to get there then in the Forest River Georgetown. This is a great motor coach for families, so plan on taking the kids and even the pets with you this time.
Hit the Road in the Forest River Georgetown
There is plenty of sleeping space for you and the kids on the Forest River Georgetown. With two bunk beds, both with their own flat screen LCD / HD TV's as well as one in the master sleeping area, everyone can watch what they want when they want. There will be no arguments here over the remote control.
In addition, there is an optional front bunk that folds out over the driving cockpit if you need the extra sleeping space for additional quests.
With stainless steel appliances and sink in the kitchen area and granite countertops, there is plenty of room to fix a meal for the entire gang. No one will go hungry with all of the kitchen storage and meal prep areas.
Be Surprised by the Extras in the Forest River Georgetown
The bathroom doesn't disappoint either. You'll have the luxury of a stainless steel sink here as well. The shower is made from one piece of fiberglass and the bathroom also comes with power fan. The Forest River Georgetown is equipped with an outdoor shower as well.
Additional features include: Automatic leveling jacks, Power drivers seat, Slide out awnings
Discover the Difference of the Forest River Georgetown
Once you get behind the wheel of this motor coach, you will soon discover the Forest River Georgetown difference. The best time to check it out for yourself is right now, so don't wait.
Manufacturers options, features, colors, etc. can all change without notice and MHSRV assumes no responsibility for the changes or possible errors in information provided by the manufacturer. All weights and measurements are approximate and not guaranteed to be 100% accurate. For the latest information be sure to check with your salesman and or the coach manufacturer and verify before purchase.