Heartland Wilderness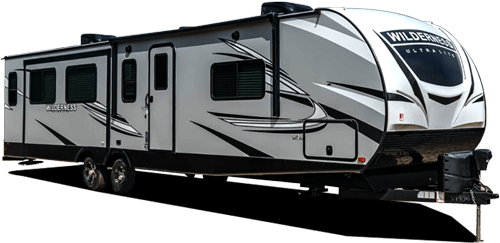 Motor Home SpecialistThe #1 Volume Selling Motor Home Dealer in the World!
*
When it comes to selection, no one can beat Heartland Wilderness travel trailers. With fifteen models to choose from, there is something here for everyone, from the weekend warrior to the lifestyle traveler, you will find exactly what you are looking for to keep your adventure moving on down the road.
Make Every Moment Count in the Heartland Wilderness
If you believe in making the most of each and every day at home or on the road, then you will appreciate the style and utility of the Heartland Wilderness. Heartland takes this philosophy of waste not want not to its travel trailers. With ultimate comfort in mind, you will find everything you need and want without an inch of space being wasted.
From the stylish dining area with booth seating to the luxury of reclining chairs and a soft sofa, you may never want to leave this travel trailer to find out what is on the outside.
Sleep the Night Away in Comfort in the Heartland Wilderness
After spending the day on the road, there is nothing quite like a little downtime. After a nice dinner and a little entertainment from the comfort of your well appointed living room, it is time to slip into bed and dream the night away.
When you wake in the morning, however, you will realize that this travel trailer is no dream, but a reality that can come true for you and your family.
Additional features include: Tinted safety windows, Steel ball bearing drawer guides, Deep bowl kitchen sink
Escape the Ordinary in the Heartland Wilderness Travel Trailer
When it is time to get away from the daily grind, it is time to head out into the wilderness in the Heartland Wilderness travel trailer. Come discover which model is the right one for you and your family today, and head on down the road tomorrow.
Check out these Travel Trailers and 5th Wheels from your Heartland RV Dealer  Motor Home Specialist:
Heartland Road Warrior
Heartland Elkridge
Heartland Terry Classic
Heartland Xtreme Lite
View all Used Heartland RVs for Sale
*Updated 2/5/18 - All weights, measurements, sizes, dimensions, features, options, etc. generated from manufacturer's website at time of update and not specific to any particular year model. This information is deemed reliable, but NOT guaranteed by the manufacturer or Motor Home Specialist due to continual product revisions and occasional OEM changes in the product, as well as any potential for human error when generating or posting these features, specifications or any other details. Please feel free to contact a Motor Home Specialist representative or the RV manufacturer for up to the minute product details before purchase. Thank you for shopping with us at MHSRV.com - We all look forward to hearing from you soon. 800-335-6054.