Holiday Rambler Navigator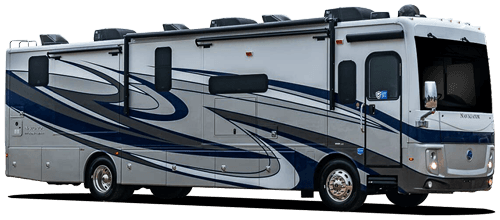 Motor Home SpecialistThe #1 Volume Selling Motor Home Dealer in the World!
*
Come to Motor Home Specialist to find your very own Holiday Rambler Navigator RV. At Motor Home Specialist, we don't believe in prices set at M.S.R.P. We are the #1 volume selling Texas RV Dealer, and we have been turning customers all over the world into happy RV buyers because we follow simple, honest business practices. We provide our customers with great quality products, and we sell them at prices that are lower than our competition.
We are proud to offer the Holiday Rambler Navigator RV among our quality inventory. The Navigator was designed to be an American favorite, with many amazing design details and fantastic comfort. From impressive interior height to recessed ceiling designs and plush furnishings, the variety of options found among our selection of models makes for attractive and roomy living. The comfort starts in the cockpit, where you may find six-way power seats with electric lumbar adjustment. The driver's seat in some models even comes with an electric sliding seat cushion and memory capabilities.
The Navigator galleys were built with exceptional space and functionality in mind. With impressive features that can include Corian countertops with detailed edging, as well as an integrated sink and Corian backsplash, making for an attractive, easy to clean surface. Other models even come with attractive tile mosaic backsplashes for added style yet are easy to maintain. Cabinet doors on many models are solid wood, and come with top-notch hardware. Navigator galleys also come with a full range of quality appliances, such as range top, microwave and refrigerator. Some models impressively feature a residential-sized refrigerator and even a dishwasher.
The bedroom in your Navigator RV will have you resting easy. Many include a large bedroom dresser, an oversized wardrobe closet, nightstands, overhead cabinets and even a clothing hamper to help things stay organized and tidy. Your Navigator's bedroom may also feature a flat screen TV, combination DVD/VCR player, and a stereo CD player/clock radio. You will freshen up in comfort with the impressively sized shower stall, with solid surface counters, roomy storage, and removable showerhead available in many Navigators.
From the Roadmaster chassis for a smooth, strong ride and Multiplex wiring to combine extensive wiring bundles into single, easy maintenance wires, you will appreciate the quality and innovation of many features found among our available Navigator RVs. Holiday Rambler built this luxury RV to provide its owners with many years of function, comfort, and enjoyment. Motor Home Specialist is ready when you are to help you discover all that our Navigators have to offer.
Motor Home Specialist is family owned, family operated, and we have built our business on selling by volume on honest low prices. Whether you visit us at our 22-acre lot in Alvarado, Texas just south of Dallas/Fort Worth, or you prefer to shop with us from home at MHSRV.com, you will experience our friendly, knowledgeable, pressure-free service and get the same great low prices. Our prices are clearly marked both on our lot vehicles as well as online, so there are no gimmicks, no surprises, and no M.S.R.P. Visit Motor Home Specialist. We would love to help you become a happy RV buyer!