Holiday Rambler Vacationer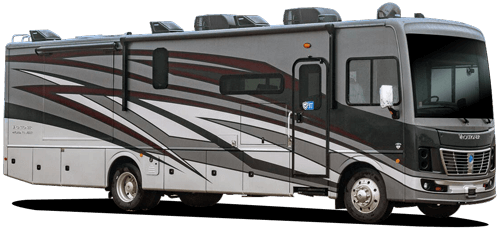 Motor Home SpecialistThe #1 Volume Selling Motor Home Dealer in the World!
*
For those of you that enjoy having options, the Holiday Rambler Vacationer is the motor coach for you. No one likes to live in a cookie cutter coach, and in this coach you will not have to. With a wide selection and combinations for cabinetry and decor, it will almost feel as if this coach was custom built just for you.
Ramble on Down the Freeway in the Holiday Rambler Vacationer
There is nothing quite like taking to the highway and letting the road determine your destination. When you are in the Holiday Rambler Vacationer, you can do that. It doesn't matter if in you are in for the long haul or just a quick weekend trip, this coach will get you to where you are going in comfort and eye-popping style such as the hardwood flat panel cabinet doors that create a superior look throughout the interior.
Dine-In when You are Traveling in the Holiday Rambler Vacationer
There is no need to spend your time in pricy restaurants when you are traveling when you are behind the wheel of the Holiday Rambler Vacationer. With the large refrigerator and freezer as well as the three-burner cook top, you have plenty of room to create any meal you may have in mind.
You will also enjoy the electronic touch pad on the microwave for a quick snack and the fact that roof vent fan will remove any cooking odors that would otherwise linger.
Additional features include: Glass shower enclosure, Under bed storage, Soft-touch pilot and Co-pilot cockpit seats
Find a Sweet Spot between Comfort & Function in the Holiday Rambler Vacationer
Find out for yourself where comfort and function meet in the Holiday Rambler Vacationer motor coach. There is none better on the road, so take the time today to discover this coach for yourself.
Manufacturers options, features, colors, etc. can all change without notice and MHSRV assumes no responsibility for the changes or possible errors in information provided by the manufacturer. All weights and measurements are approximate and not guaranteed to be 100% accurate. For the latest information be sure to check with your salesman and or the coach manufacturer and verify before purchase.
Manufacturer's options and features are subject to change without notice. Click here to view manufacturer's website information