Sportscoach Cross Country SRS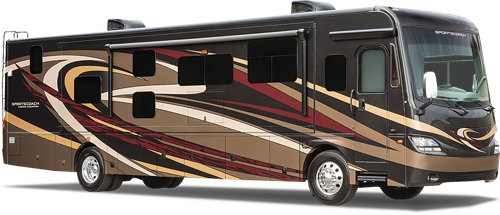 Motor Home SpecialistThe #1 Volume Selling Motor Home Dealer in the World!
*
Sportscoach Cross Country SRS RD (Rear Diesel) RVs by Coachmen for Sale at Motor Home Specialist, the #1 Volume Selling Motor Home Dealer in the World as well as #1 motorized Coachmen RV dealer and Sportscoach RV Dealer in the World.
The Sportscoach Cross Country SRS by Sportscoach is an amazing value when purchased from Motor Home Specialist. It is currently available in a very popular 360DL and family favorite 361BH Bunk House RV. The SRS is a shorter and even more affordable version of the Coachmen Cross Country Sportscoach model. The SRS traditionally offers residential grade vinyl floorings, quality wood packages, diesel generators and as of 2016 they were offered in two floor plans. The 360DL with side entertainment center and fireplace along with the 361BH Bunk House RV.
Check out the incredible prices on Coachmen Cross Country and Coachmen Cross Country SRS models today at Motor Home Specialist. Expect to find the largest selection and lower prices everyday!
Click here to view Sportscoach Cross Country SRS RV Reviews by Coachmen.  
Coachmen RV, the manufacturer's options, features, colors, etc. can all change without notice and MHSRV assumes no responsibility for the changes or possible errors in information provided by the manufacturer or MHSRV. All weights and measurements are approximate and not guaranteed to be 100% accurate. For the latest information be sure to check with your salesman and or the coach manufacturer and verify before purchase.