Sportscoach Cross Country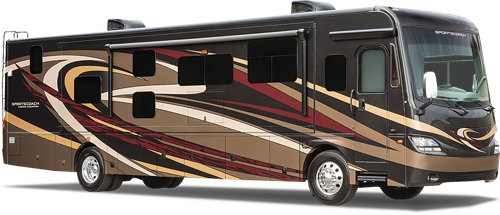 Motor Home SpecialistThe #1 Volume Selling Motor Home Dealer in the World!
*
Sportscoach Cross Country RD (Rear Diesel) RVs by Coachmen for Sale at Motor Home Specialist, the #1 Volume Selling Motor Home Dealer in the World as well as #1 Coachmen RV dealer and Sportscoach RV Dealer in the World. 
Sportscoach is one of the oldest & most recognized names in Motor homes with their company origins tracing all the way back to 1968. They were acquired later by the iconic coach manufacturer, Coachmen RV in 1978 and most recently become part of Forest River RV and the Berkshire Hathaway group. Berkshire Hathaway's current list of companies include some of the most well know in the world. Forest River has over 60 plants nationwide manufacturing more than 80 different makes of trailers, 5th wheels, boats, cargo trailers, manufactured & modular homes, commercial vehicles, shuttle buses and of course luxury class C, Class A gas & diesel pusher motorhomes. In 2002 Coachmen  began manufacturing the Sportscoach Cross Country. Since then the Cross Country evolved and now includes the Sportscoach Cross Country SRS model that have both helped change the diesel motor home industry by providing all the power and performance of a luxury diesel motor home, at a price comparable to that of many class A gas RVs produced by other manufacturers. And now that the Cross Country RD is available with luxury features and options such as tile backsplashes, beautiful high polished tile flooring, residential refrigerators and premier full body paint exteriors the Cross Country has never looked better or offered more at MHSRV.
The Sportscoach  Cross Country is available in several different floor plans including the incredibly popular Sportscoach Cross Country 404RB bath & 1/2 with Salon Bunks Another really popular Sportscoach floor plan is the 405FK or Front Kitchen model and the all new . The Cross Country is offered in several different interior decor packages, wood choices and exterior paint colors including the Cross Country SRS model. The exterior paint on the Sportscoach Cross Country motor homes here at Motor Home Specialist are not only superior in graphic design, but also in the finish itself. Not only do these coaches feature the Sikkins brand paint found on many of the world's most expensive cars & yachts, but also has the optional Sportscoach  X4 clear coat protection consisting of additional sprays of clear coat that is ultimately color sanded and buffed to a high gloss finish. This additional process provides smoother paint lines, a deep rich finish and adds UV protection that will help minimize fading and reduce paint maintenance. The Cross Country's paint is further protected by the Diamond Shield invisible front mask that helps prevent rock chips, but still allows easy access to the upgraded Onan 8000 quiet diesel generator.
As of 2016 the Standard Sportscoach Cross Country it is powered a 340 HP Cummins diesel engine with 660 ft. lbs of torque and the smooth performance of an Allison 6 speed automatic transmission. It rides on a Freightliner raised rail chassis with 55 degree wheel cut and air ride suspension system. The raised rail chassis not only provides a tremendous amount of  pass-through storage and a full width slide-out cargo tray, but also a superior level of stability when driving. The outrigger truss design and one piece steel sides give the Cross Country's chassis superior foundational strength. The truss system adds camber for the weight of the storage bay and is laser lined by Sportscoach. The chassis is further strengthened by a steel framed and steel plated front firewall. 
Just a few of the additional exterior features and options might include: electric entrance steps, high polished aluminum wheel upgrade, air ride suspension, a 100 gallon fuel tank with dual fuel fills, several side swing baggage doors, a 2000 watt inverter, a rear ladder, a rear hitch with a 7,500 lb. towing capacity, a rear mud flap, a 50 amp service cord, a water filtration system, black water tank rinsing system and an exterior shower perfect for beach trips or washing the dog. 
The newly designed front end of the Sportscoach Cross Country includes air horns, a one piece panoramic windshield, sculptured front fiberglass cap with integrated headlights, chrome side view mirrors and a 3-camera coach monitoring system. The side cameras are blinker activated, so when you turn on your right hand blinker you can clearly see down the right hand side of the motor home, when you turn on your left blinker you can see clearly down the land hand side of the motor home. The back-up camera not only makes parking a breeze, but it's great to use just about any time you're driving. It makes it nice to be able to see the traffic coming up from behind you, as well as keep a close eye on your tow vehicle or trailer if your pulling something. These cameras can also be used for security purposes while you're camping. The Cross Country Motorhomes at Motor Home Specialist can even feature an exterior entertainment center with large LCD TV and separate exterior DVD player.
The Coachmen Cross Country RD and or Coachmen Cross Country SRS may also feature a heavy gauge tubular aluminum sidewall. The frame is hand packed with air tight isolating foam, then covered with a layer of Azdel composite siding and finally the gel coated fiberglass exterior wall. All of this along with the interior wall is vacuum bonded for superior strength and durability.
The layer that really separates the Sportscoach product from the competition is the Azdel composite siding. Other products are built using traditional wood sheet siding. The problem with wood is that it can absorb and retain moisture which will grow heavier over time and can ultimately cause wall separation or worse yet even mold. The Azdel product is lighter weight, which will help optimize your engine's performance and fuel economy, and because it is not a wood material harvested from the rain forest it is both greener and provides a less that 1% chance of retaining any moisture that could ever lead to wall separation or mold.
The interior of the new Sportscoach Cross Country is unlike anything in its class on the market today. From the available fully tiled entry way & ergonomically designed cockpit..... to the optional diamond laid high polished ceramic tile flooring, the beautifully hard wood cabinet doors, and decorative tile backsplashes, the Cross Country will surpass your every expectation of what a affordable luxury diesel motor coach should be. A few of the available interior features and options may include (depending on floor plan) a hide-a-bed sofa with air mattress, storage bin & seatbelts, an opposing love seat w/storage bin & seatbelts, your choice of either a booth dinette/sleeper or dinette & chair arrangement with additional storage, adjustable table and two additional folding chairs. you'll also find optional dual pane windows, day/night shades in the galley, custom window treatments, A remote controlled fireplace with adjustable lighting and heat settings, soft touch vinyl ceilings for easy care and superior insulation, flush mounted speakers, additional side isle cabinets & window, a living room DVD player.
Sportscoach even went the extra mile when designing the air conditioning system for the all new Sportscoach Cross Country.It utilizes Coachmen's exclusive Even-Cool air conditioning system. The air flow from the dual roof  A/C units are centrally distributed through a laminated & crowned roof. The inner ductwork is heavily insulated and uses radiused corners to provide maximum cooling efficiency.
The Cross Country's kitchen is also incredibly well designed & appointed perfect for the RV lifestyle. You'll find a tremendous amount of cabinet and drawer space both above and below the counter top and available full extension drawer glides throughout the coach. The kitchen is further highlighted by an optional large microwave/convection oven, a flat top range, a residential refrigerator, beautiful multi-tile backsplashes, Corian counter top, a high end faucet fixture, big sink basins and solid surface sink covers.
The bathroom might feature, depending on floor plan, a large medicine cabinet, a solid surface sink, a lower cabinet, a private side isle commode room with power vent, and a linen closet that can easily be reached from the large round radius glass door shower with overhead skylight. The master bedroom may feature, depending on floor plan, year model, etc.,  a remote controlled Select Comfort mattress, custom designer bedding, a residential style headboard and overhead storage. There is plumbing for a stack washer/dryer set in many floor plans, a huge rear wardrobe closet available and Sportscoach's innovative flat floor bedroom design as well as a tremendous amount of additional storage area under the bed are also available in select models. At the foot of the bed you'll find a chest of drawers as well as a separate bedroom DVD player and big LCD TV mounted high and in the center of the room for easy viewing in select floor plans as optional or possibly standard equipment.
And we think you'll really like what you see here once you get behind the wheel.
take a look at the Sportscoach Cross Country's huge one piece windshield. The view from this windshield is outstanding. Notice where the windshield wipers are located, low and out of view as well as Cross Country's angled site-rite dash that provides superior visibility when cornering. The dash in the Cross Country  is also stylish and well equipped. A few of the features might include, depending on options and year model,  a push button shifter for the Allison 6-speed automatic transmission, controls for the fully automatic hydraulic leveling system, power & heated side view mirrors, a digital coach information center, a touch screen satellite ready radio, an exhaust brake, pull down solar and privacy shades for the cockpit, power solar and power blackout shade for the windshield, LED lighted cup holders, storage drawer, cab fans & power drivers and power passenger's side seats.
The Cross Country is also now available in a compact 36' (approximate length) version boasting a 300HP Cummins diesel and many of the same features you saw in this video at an even more affordable price. This model is known as the Coachmen Cross Country SRS. As of 2016 it is available in a 360DL and a 361BH Bunk model motorhomes. You may also want to check out the new Mirada Select and Coachmen Mirada class A motorhomes.
And when you purchase any new Coachmen RV from Motor Home Specialist you will not only enjoy superior service, selection & pricing, but also receive a free 1 year membership in the Coachmen Owners Association. This added value not only provides a host of travel services and campground discounts, but also 24/7 online service that locates needed services while offering savings at more than 180,000 merchants across the country. Contact a Motor Home Specialist representative today.
More information and previous model information about the Coachmen diesel division.
There are several previous models of Sportscoach diesels available with a wide range of price points, features and floor plans as used RVs.
When it comes to enjoying the great outdoors, your vantage point is as important as what nature has to offer. And nothing gets you into the scenery like a Cross Country diesel motorhome by Sportscoach. The powerful Cummins rear diesel engine gets you there in style. Plus, the diesel inspired amenities inside and bold exterior colors let you stand out from the crowd. Cross Country gives you all the benefits of a diesel coach at a price comparable to many gas model RVs.
Another previous offering from Sportscoach was the Sportscoach Pathfinder diesel pusher. The Pathfinder was an adventurous, contemporary and astonishingly affordable RV. Pathfinder not only featured a powerful diesel engine and diesel generator, but also ceramic tile floors, one piece windshield, deluxe full body paint, LCD TV, plush furnishings in select floor plans. Pathfinder was in 2014 with available three wood choices, five interior selections and an amazing eight different exterior paint selections.  To go to an even higher level of power and comfort you'll want to take a look at the Used Sportscoach Encore. It's an incredible used diesel RV and at Motor Home Specialist you can always count on it being an incredible value as well.
To go beyond the expected take a closer look at the Sportscoach Elite pre-owned diesel RVs. The Elite delivers more of the choice features you demand in a premium diesel pusher RV. From the fiberglass roof and premier paint job to the unbelievable list of standard equipment you'll be surprised at every turn of the Elite. And speaking of turns you'll love the available 55 degree turning radius of the Sportscoach Elite. Finally, there was the Sportscoach Elite Legend. This was the flagship diesel pusher in the Sportscoach line. Don't be surprised to see an outside LCD TV and DVD player as well as the navigation system, in-motion satellite dish, 4-door refrigerator, solid hardwood cabinets, side-view camera system, slide-out freezer, king bed and much more.
To find out more about the New RVs of the Coachmen Cross Country line-up as well as possibly available Used RVs from the Pathfinder, Encore, Elite and Sportscoach Elite Legend motorhomes please feel free to call or email one our representatives at Motor Home Specialist, "Where Your Money Buys More."
Click here to view Sportscoach Cross Country RV Reviews by Sportscoach.  
Manufacturers options, features, colors, etc. can all change without notice and MHSRV assumes no responsibility for the changes or possible errors in information provided by the manufacturer or MHSRV. All weights and measurements are approximate and not guaranteed to be 100% accurate. For the latest information be sure to check with your salesman and or the coach manufacturer and verify before purchase.