Bus Conversion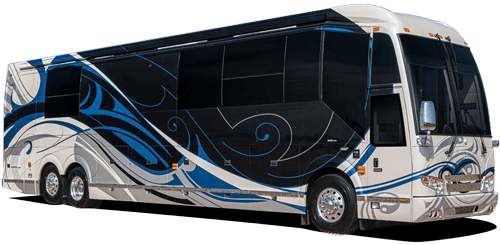 Motor Home SpecialistThe #1 Volume Selling Motor Home Dealer in the World!
*
Prevost Bus Conversion RVs for Sale at Motor Home Specialist, the #1 Volume Selling Motor Home Dealer in the World as well as exclusive Outlaw Prevost RV dealer.
When it comes to top-of-the-line luxury, ride, and interiors, there's nothing quite like a bus conversion motorcoach. These vehicles have the room, the elegance, and the custom options that make them the King of the road.
Take Control of the Road in a Bus Conversion Motorcoach
Today's bus conversion RVs have an eye for detail. You'll find it in every square inch of this type of motorhome. From the window treatments to the flooring options, nothing is left to chance. Bus conversions are built with quality and craftsmanship in mind, and while they are full of top quality standard options, the custom options are what will make this vehicle your very own.
Travel in Style and with Room to Spare in a Bus Conversion Motorcoach
Whether you have a big family that likes to go on the road, or you enjoy entertaining while you travel, there is plenty of room on a bus conversion for you and all of your friends and family, and with sleeping arrangement options such as bunk models, there's also room to get some shuteye as well.
One of the advantages of bus conversion motorcoachs are the floor plans. A motorcoach should never be a one-size-fits all proposition, and with a bus conversion it never is. There are many floor plans to select from depending on the manufacturer and model you choose.
Some of the other manufacturers and luxury models available at MHSRV include the following:
Prevost H3-45 Quad Slide by Outlaw Coach The Residency II
You may also want to take a look at the incredible Foretravel Realm FS6
Foretravel Realm FS6 Luxury Villa Bunk
Foretravel Realm FS6 Luxury Villa Salon Bunk
Discover the right Bus Conversion RV Dealer for you. Give us a call today to learn more. View all our luxury RVs here.
Manufacturers options, features, colors, etc. can all change without notice and MHSRV assumes no responsibility for the changes or possible errors in information provided by the manufacturer. All weights and measurements are approximate and not guaranteed to be 100% accurate. For the latest information be sure to check with your salesman and or the coach manufacturer and verify before purchase.