Fleetwood Flair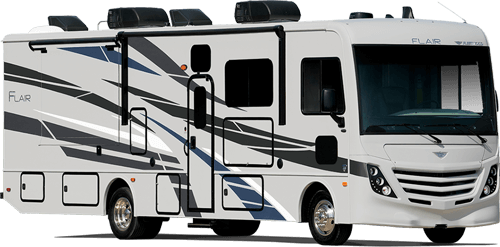 Motor Home SpecialistThe #1 Volume Selling Motor Home Dealer in the World!
*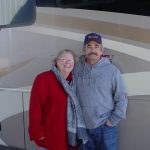 This was wonderful. You guys made it uneventful and no pushy sales gimmicks'. The prices are the best!! Thanks!
Read Fleetwood Flair Reviews 
Fleetwood Flair RVs for Sale at Motor Home Specialist, the #1 Volume Selling Motor Home Dealer in the World as well as a full line Fleetwood RV dealer.
When it comes to Class A gas RVs it's hard to beat the style and affordability of the Fleetwood Flair. From abundant storage to entertainment options, this motorhome stands apart from the competition.
Check out the Entertainment Options on the Fleetwood Flair
Just because you're on the road doesn't mean you don't want to entertain and be entertained, and the Fleetwood Flair lets you do just that. While this RV won't break the bank, it does have available features such as an exterior radio and LED television entertainment center, and can even include a LED power awning to light up the outside, so the fun never needs to come to an end.
Sleep in Comfort in the Fleetwood Flair
Of course, at some point, when the day is done, it is time to find a comfortable and cozy place to relax and get some shuteye, and the Fleetwood Flair doesn't disappoint here either. The Flair offers several different sleeping arrangements such as a queen size bed and an optionally hidden loft drop-down bed. You can even select a convertible-dinette to allow sleeping space for more quests or family.
While the Flair, by Fleetwood RV, is a great choice when it comes to Class A RVs, Fleetwood does also offer these other fine models including diesel pusher RVs and class C RVs too:
Expedition
Pace Arrow LXE
Excursion
Storm
Jamboree Sport
Tioga Ranger
Jamboree Searcher
Tioga Montara
There's no time like now to be on the road. Give us a call today and find your own adventure in the Fleetwood Flair.
Click here to view Fleetwood Flair RV Reviews.
Manufacturers options, features, colors, etc. can all change without notice and MHSRV assumes no responsibility for the changes or possible errors in information provided by the manufacturer. All weights and measurements are approximate and not guaranteed to be 100% accurate. For the latest information be sure to check with your salesman and or the coach manufacturer and verify before purchase.