Fleetwood Terra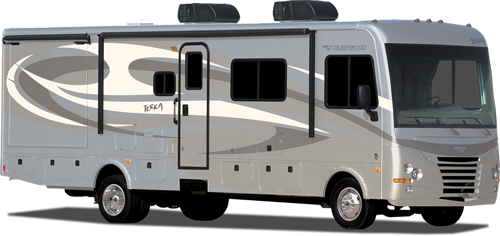 Motor Home SpecialistThe #1 Volume Selling Motor Home Dealer in the World!
*
Fleetwood Terra RVs for Sale at Motor Home Specialist, the #1 Volume Selling Motor Home Dealer in the World as well as a full line Fleetwood RV dealer.
From the well designed interior to the stylish graphics on the exterior, the Fleetwood Terra was designed with making you look good and feel good as you move on down the road.
Benefit from the Comforts of the Fleetwood Terra
One of the nice things about travel is going home. That's because you often have to leave the comforts of home behind, but no more. With the Fleetwood Terra, you can bring all the comforts of home on the road. From hardwood raised panel cabinet doors, to pleated day and night shades in both the living and bedrooms, you'll find home on the road.
When it's time to sit back and relax, it's easy to do so in the comfortable and quality constructed furniture you'll find on the Terra. The bedroom comes with soft beds and extra storage spaces, and the living room provides room to watch TV or play a game with the family on the pedestal sofa table.
Bring More in the Fleetwood Terra
Being on the road is even a greater pleasure when you can surround yourself with those things that make you the happiest, and with the Fleetwood Terra you can do just that. Beyond the roomy interior spaces, there are storage areas and plenty of them. In the bedroom every inch is utilized to allow you extra storage, and you'll enjoy pass-through storage bins as well.
In addition, Fleetwood RV offers these wonderful RVs:
Excursion
Southwind
Jamboree Sport
Jamboree Searcher
Take a moment, right now, and give us a call to learn more about the Fleetwood Terra.
Click here to view Fleetwood Terra RV Reviews.  
You may also like additional REV Group RV manufacturers include Monaco Coach, Holiday Rambler and American Coach.
Manufacturers options, features, colors, etc. can all change without notice and MHSRV assumes no responsibility for the changes or possible errors in information provided by the manufacturer. All weights and measurements are approximate and not guaranteed to be 100% accurate. For the latest information be sure to check with your salesman and or the coach manufacturer and verify before purchase.